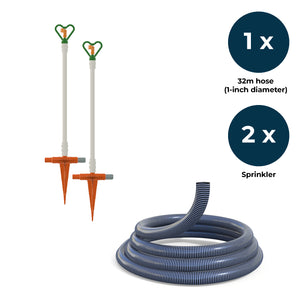 These low-pressure sprinklers and high-quality rigid hosepipe have been selected for maximum efficiency with Futurepump solar pumps. Quick and easy to set up and move around your plot, these sprinklers allow the automatic application of water to your crops whilst you can focus on other farm jobs.
Designed to gently 'rain' down on your crops, these sprinklers are an ideal way to get water to your crops without damage to seedlings or young leaves.
The SF2H Sprinkler Pack consists of two sprinklers and a 30m length of 32mm (1.25-inch) hose.
Sprinkler details:
2 x rotating sprinkler heads with upstands and tee-piece
Wetted area: 3-4m radius per sprinkler when using 2 sprinklers. Adding more sprinklers will reduce the wetted radius per sprinkler
Sprinkler head can be attached directly to tee-piece or with 1 or 2 pipes depending on desired height
Hose details:
Length: 30m
Internal diameter: 32mm (1.25-inch)
External diameter 39mm (1.5-inch)
Weight: 14.5kg
How to set up:
To use these sprinklers, they must be placed at intervals along your discharge pipe. You will need to cut the length of hose and place the sprinkler tee-piece between the two lengths of pipe. The end sprinkler will need to be capped off with the black endcap and jubilee clip.
Note: The optimal number of sprinklers and radius of water distribution are dependent on your set up. Using fewer than 2 sprinklers will cause too much back pressure for the pump and could cause the air vessels or hose to detach from the pump. Adding more than 2 sprinklers will not increase the irrigated area as each sprinklers' radius will decrease.
Adding sprinklers increases the back-pressure to the pump, this will reduce the vertical height over which you can lift water. For more details, please see our technical note.